Unlock your full productivity potential with MonitUp

Boost Your Productivity with AI and Daily Activity Log Software
Struggling to manage your time and stay focused on important tasks?
MonitUp AI Time Tracker helps you track computer activity, gain insights into work habits, and boost productivity. Identify time-wasting activities, minimize distractions, and achieve professional goals with ease.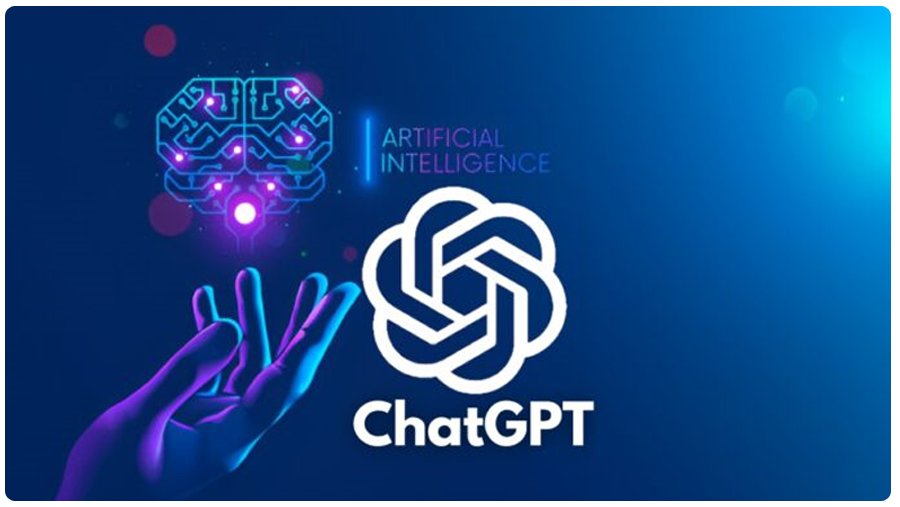 AI Suggestions for Enhanced Productivity and Performance Appraisal for Remote Employees
MonitUp AI Time Tracker processes the data it collects from your daily activity log and leverages artificial intelligence to generate personalized suggestions. These AI-powered suggestions are designed to help you increase productivity and work more efficiently. Additionally, MonitUp AI Time Tracker's performance appraisal feature is particularly useful for remote employees, allowing you to evaluate and improve their performance based on objective data.
User Dashboard
The User Dashboard provides a comprehensive view of your computer usage, including time tracking with screenshots. You can see detailed information such as the time you turned on your computer, how long it remained on the lock screen, and when you turned it off. MonitUp AI Time Tracker also offers GDPR monitoring to ensure data privacy and compliance.
Powerful Screenshot Feature for Time Tracking and Monitoring MonitUp AI Time Tracker's screenshot feature allows you to capture and track your activities visually. Time tracking screenshots provide an additional layer of insight into your work patterns and help you identify areas for improvement. You can customize the frequency and quality of the screenshots according to your preferences.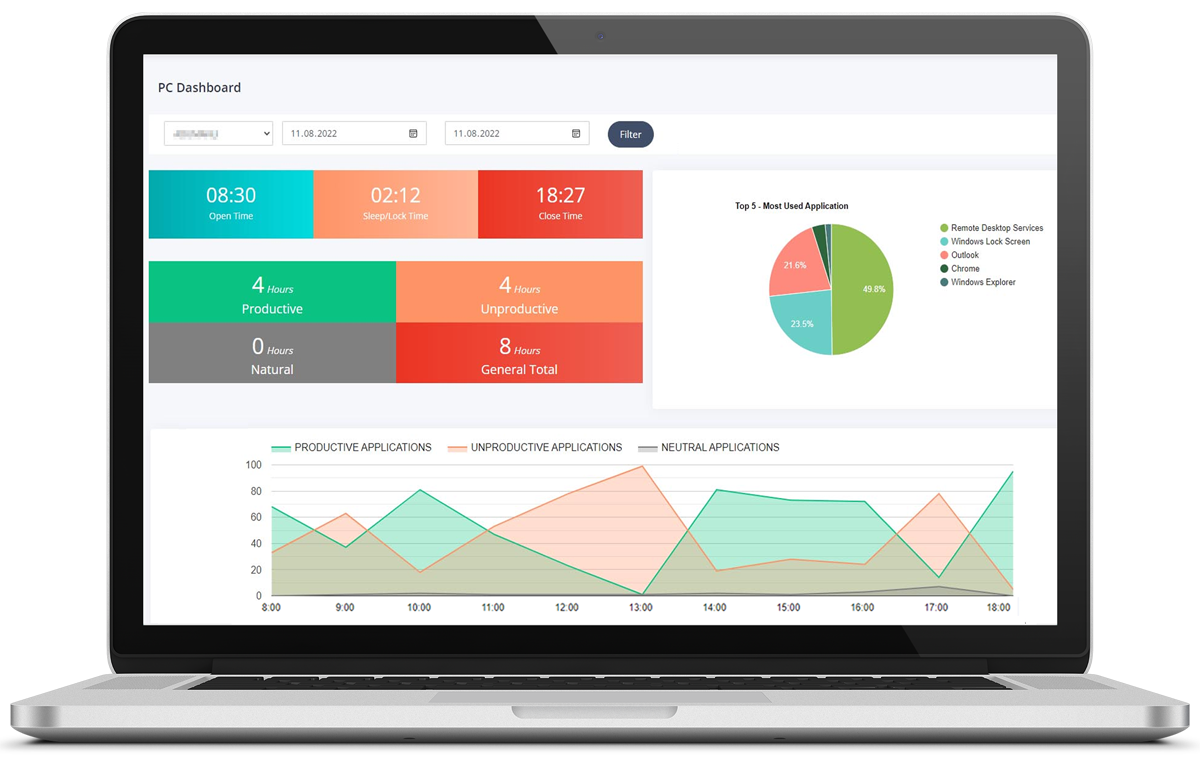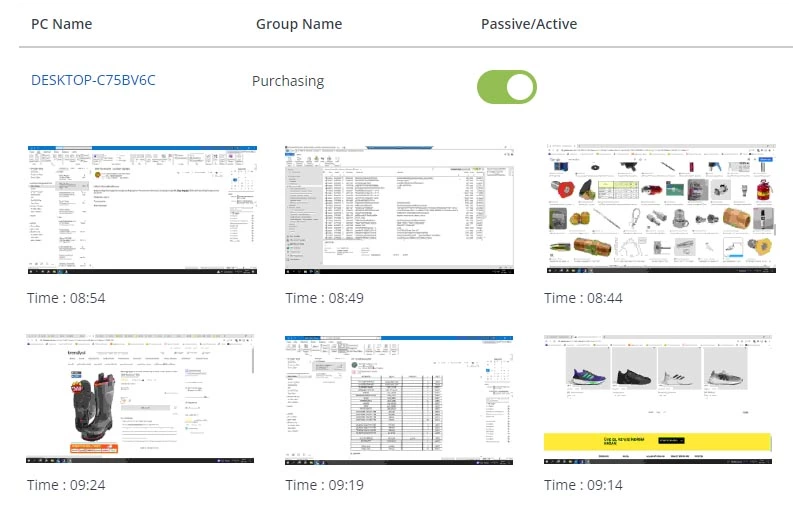 Screenshot
The screenshot feature is initially set to passive mode, but you have the option to activate it. You can schedule automatic screen captures at various intervals with adjustable quality settings.
Screenshots will also be processed in the near future and used for interpretation by artificial intelligence.
Customize Applications for Accurate Reports
You have the flexibility to categorize your applications into three different groups: efficient, inefficient, and neutral. This ensures that all productivity reports are calculated based on the applications you have determined for your specific needs. MonitUp AI Time Tracker's time tracking software with screenshots offers a comprehensive and detailed analysis of your productivity.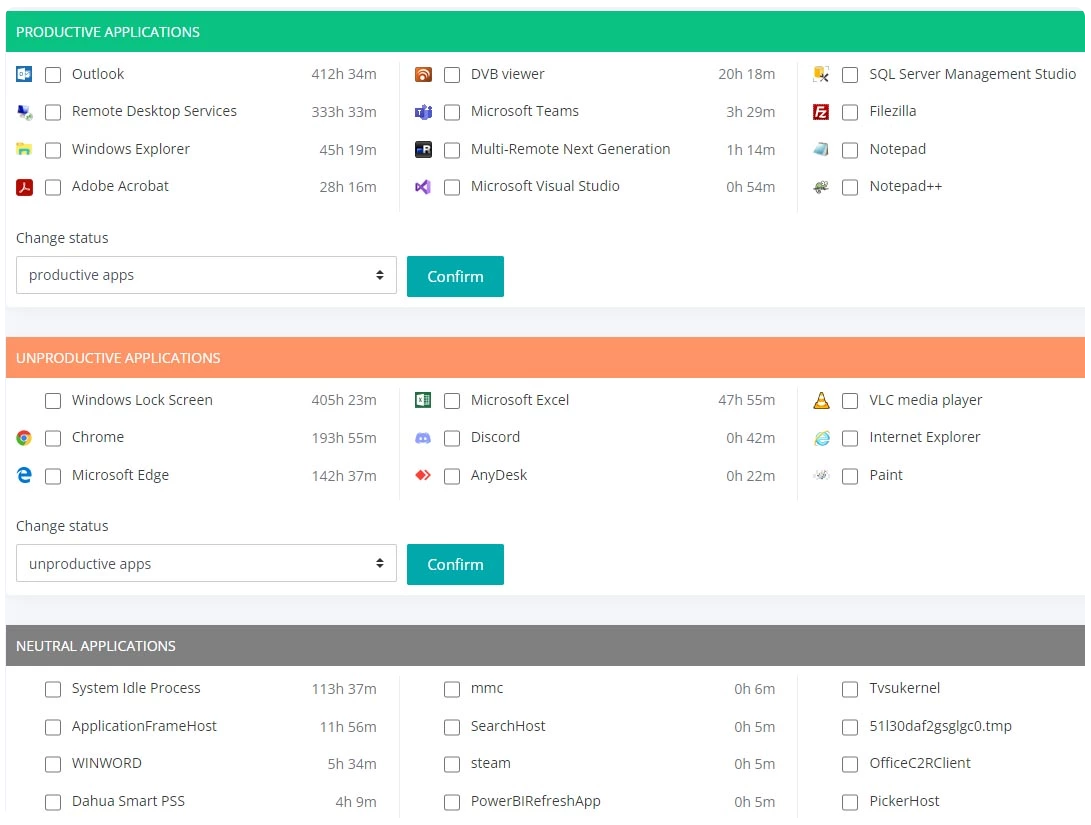 Step 1
Your time is tracked
MonitUp AI Time Tracker diligently tracks the applications you use on your computer and the websites you visit, along with their respective durations. The daily activity log software ensures accurate and comprehensive data collection.
Step 2
Your data is processed
The collected data, including time tracking screenshots, can be thoroughly analyzed using the reports available in MonitUp AI Time Tracker.
Step 3
You get AI suggestions
Our advanced artificial intelligence algorithms process the collected data, including timetracker screenshots, and generate personalized suggestions to help you work more efficiently and effectively.
MonitUP AI Time Tracker keeps track of when you open and close your computer. It also tracks how long you use each application and which websites you visit.
You can categorize the applications as efficient, inefficient, or neutral based on your own preferences. This way, you can easily see how productive your day has been with the help of graphs.
You can enable the screenshot feature, which takes random screenshots every 5 minutes. This gives you an idea of how you spend your time as an external observer.
Through AI recommendations, it provides suggestions to improve your productivity.
MonitUP AI Time Tracker runs in the background and consumes very few resources, causing no performance issues on your computer.
The Freelancer package has a user interface where you can assign tasks to yourself. Before starting a task, you need to open MonitUP AI Time Tracker, select the task, and click the START button. This way, you can report how much time you have dedicated to each task. The Freelancer package does not automatically start the tracking process like the other packages. You need to manually start and stop it.
Currently, MonitUP Time Tracker only works on the Windows operating system. To be included in the waiting list for Mac OS, please send us an email through this link .
FREELANCER
$6
user / month
Ideal for project-based work. You manually start and end the tracking process.
AI Suggestions

Open/Close Time List

App and URL Tracking

Identifying Productive Apps

Screenshots

Desktop App

Available for Windows OS
PREMIUM
$9
user / month
Automatically activates when your computer turns on during your specified working hours. It offers comprehensive features, including time tracking with screenshots.
AI Suggestions

Open/Close Time List

Setting Working Hours

App and URL Tracking

Identifying Productive Apps

Screenshots

Notifications

PC Performance Tracking

Available for Windows OS